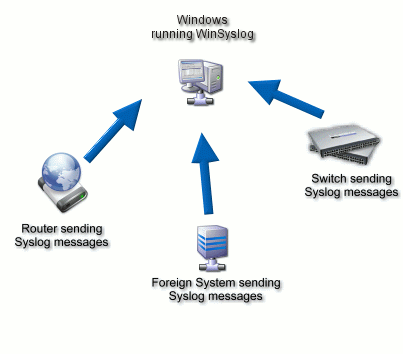 WinSyslog is the original syslog server for Microsoft Windows. Since 1996, it offers superior features:
Microsoft Windows 11 and 2022 ready
remotely accessible via a browser with the included web application
supports all industry standards: UDP syslog, TCP syslog, RELP
highly performance
reliable
robust
easy to use
reasonably priced
highly scalable from the home environment to the needs of multi-national companies
free for trouble-shooting in home environments (see edition comparison for limitations)
WinSyslog is created by the same team that also develops rsyslog. Rsyslog is the de-facto standard syslog server on Linux used by thousands and thousands of large and small organizations.
Why do you need a windows syslog server?
Many devices like routers and switches send very important information via the syslog protocol. If you want to know what is going on in your network, you need to obtain this information. This is what WinSyslog helps you with. As a plus, there is no need to introduce Linux in your otherwise Windows-only network.
Why should you choose WinSyslog?
Running a syslog server on Windows should be simple, but yet scale for highly demanding environments. This is what WinSyslog does. For the home user, we even offer a free version (the WinSyslog Interactive Syslog Viewer desktop version). Trust the folks that invented the original syslog technology on Windows and give WinSyslog a try.