About WinSyslog…
Since 1996, WinSyslog is the professional's choice when it comes to an enhanced syslog server for Windows. Being the first to offer syslog functionality on Windows, Adiscon has always been on top of the others. WinSyslog is extremely reliable, robust, easy to use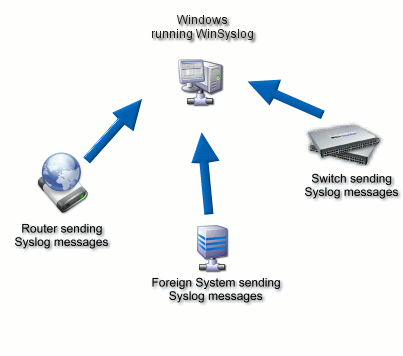 and reasonably priced. It complies to all relevant standards including RFC 3164 and RFC 3195. Plus, it comes with Adiscon's world-class support. Try the free, full-featured evaluation version and see yourself!
What can I do with WinSyslog?
receive messages from your firewalls and routers like PIX, NetGear or IPTables
troubleshoot network problems quickly and easily
comply with laws and company policies by storing log messages in files or databases
be alerted when critical conditions occur
create a central log repository in a heterogeneous environment
run the system unattended and reliable 24 hours a day, 7 days a week
WinSyslog has a myriad of advanced features and use cases. To get a more detailled overview, the edition comparison is a good place to start. It tells you about the features and in which edition they are present. The trial version offers the broadest feature set (enterprise editon).
WinSyslog is
an enhanced syslog server for windows
compliant to RFC 3164 and RFC 3195
backed by practical experience since 1996
highly performing
reliable
robust
easy to use
reasonably priced
highly scalable from the home environment to the needs of multi-national companies
free for trouble-shooting in home environments (see edition comparison for limitations)
WinSyslog is the solution for all your syslog logging needs. Together with other parts of the Adiscon MonitorWare line of products, it solves your logging and reporting problems. Download the free, full-featured evaluation version today and try it yourself!